Rarely do research and monitoring projects target more than one large carnivore species. We've partnered with the Grizzly Bear Monitoring Project (GBMP) to do just that.
From 2011 to 2014, the GBMP has been tracking grizzly bear populations in southwestern Alberta through non-invasive genetic sampling. Bears naturally rub on trees and other objects such as power poles, and fence posts. In southwestern Alberta, bears regularly cross fence lines. The hair they leave behind can be used to identify species (black versus grizzly bear), individual genetic identity, and sex.
Alberta is home to a variety of colour-phase black and grizzly bears. Because of this colour variation, it is not possible to differentiate between grizzly and black bear hair samples in the field. So a genetic pre-screen (G10J) is required to distinguish between the two species.
Approximately 40% of the hair collected on the GBMP project has been from black bears. Use of these existing hair samples is both a cost savings and a unique opportunity to look at grizzly-black bear interactions, along with allowing wildlife researchers and managers to get an updated black bear population estimate for the region.
We will document how black bear abundance, density, and distribution vary across the study area. We are also interested in how black and grizzly bears segregate habitat in southwestern Alberta.
Study Area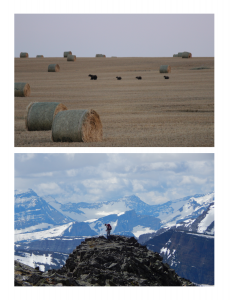 Southwestern Alberta is a land of contrast. Rugged peaks drop to sweeping prairies, winter chinook winds can melt snow in a matter of hours, and fertile agricultural lands are host to a full suite of large carnivores.
The cougars, wolves, grizzly and black bears that call this area home are highly connected to wildlife populations in other parts of the Crown of the Continent ecosystem, including Montana and southeastern British Columbia. Just under half the grizzly bears detected on our partner Grizzly Bear Monitoring Project were also detected in southeastern B.C. and Montana.
Our study area lies along the east front of the Rocky Mountains. It's bounded by Highway 3 to the north, British Columbia to the west, the U.S. border to the south, and the eastern extent of current grizzly bear range. This area is managed for grizzly bears by the Alberta government as 'Bear Management Area 6' (BMA6).
Land tenure in BMA6 is unlike many other Bear Management Areas in Alberta in that it is largely private land (60% private, 40% public). Agriculture in the primary industry, though the area is also host to oil and gas development and heavy recreational use, including Off Highway Vehicles (OHV).
Our study area ranges from mountainous terrain in Waterton Lakes National Park and Castle Special Management Area, to aspen parkland, and foothills fescue to the east.
Methods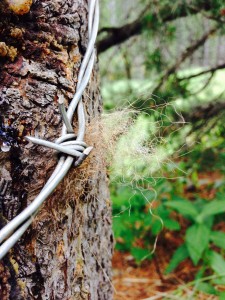 We will use non-invasive genetic methods to monitor black bear populations, densities, and distributions. To facilitate the collection of bear hair, rub trees and objects were set up with a 'Z' pattern of barbed wire. Rub trees were identified by smooth or discoloured bark, branches broken off to the height of a bear, and the presence of bear hair on the bark.
From 2011 to 2014, nearly 900 rub objects were affixed with barbed wire. Rub objects were identified on both public and private land and included rub trees, power poles, fence posts, and fence lines. Rub objects were visited eight times from May to November in 2013 and 2014; the first visit was to clean the barbed wire and seven subsequent visits were to collect hair samples. Field technicians walked roughly 7,000 km each year to sample hair from all the rub objects!
Capture-recapture methods are commonly used for studying animal populations. For our study, we will "capture," or detect, an animal non-invasively by sampling bear hair from rub trees. DNA extracted from hair follicles will be used to identify if a hair sample is from a black or grizzly bear, if it is from a male or female, and to assign an individual genetic identity.